Airport Transfers Service by Ascend in Motion
An alternative to Taxi Service:
Ascend in Motion's private car service and chauffeur service at LAX doesn't just pave the way; it builds the path to an exceptional airport transfer experience. Envision the convenience of our LAX curbside pickups and the abundance of enticing advantages that clearly differentiate us from the traditional Airport Taxi Service and Airport Shuttle Service. For a comprehensive exploration of these benefits, encompassing cost-effectiveness, convenience, and heightened quality, please delve into the subsequent in-depth analysis. Your extraordinary travel journey commences right here with Ascend in Motion.

Book your reservation today and trust in our professional chauffeurs, well-maintained comfortable and luxury fleet, and unbeatable prices for an exceptional travel experience.
Taxi Service?, Airport Shuttle Service? or Ascend in Motion Airport Transfer?
Airport Transfers facts for your consideration:
Airport transfers, commonly known as Airport shuttle service, Airport pick-up service, or Airport Taxi service, are essential for ensuring a smooth traveler's journey from the airport to the final destination. Amid these recognized options, Ascend in Motion's Airport Transfer via private cars shines as a superior alternative. It boasts a wide range of unmatched benefits, tailored to the discerning traveler.
Types of Airport Transfers:
Airport transfers offer diverse choices, including Airport Shuttle Services, private car hires, and Taxi Services. Firstly, Airport Shuttles offer a budget-friendly choice for those seeking economical transportation. Secondly, private car hires grant passengers a personalized and convenient alternative, ensuring comfort and prompt service. Lastly, traditional taxi services remain a familiar and accessible means of reaching one's destination, making it a go-to option for many. These selections cater to the varying needs of travelers, bridging the gap between the airport and the final stop.
Ascend in Motion's Advantages:
1. Convenience:
Ascend in Motion's private car service provides advanced booking or on-demand options, ensuring personalized, timely pick-ups that cater to individual needs and schedules. Furthermore, Ascend in Motion seamlessly performs all LAX transfers to destinations in Southern California through our LAX curbside pickup service. We take pride in ensuring your journey begins with convenience and ease. Our professional drivers meet you right at the curbside, eliminating the hassle of airport transportation. From there, you can relax and enjoy a comfortable ride to your chosen destination.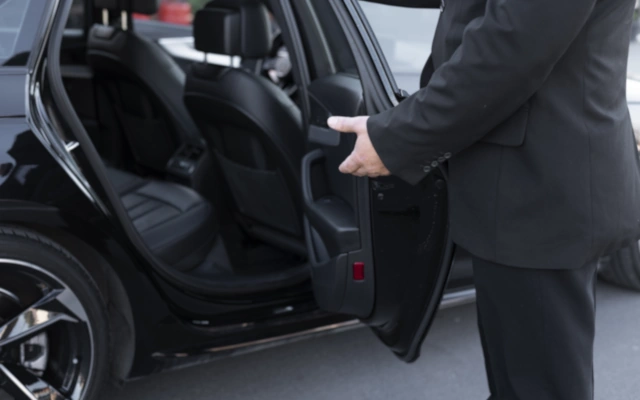 2. Quality of Service:
Expect professional chauffeurs, impeccably maintained and luxurious vehicles, and a heightened standard of customer care, enhancing the overall travel experience.
3. Flexibility:
Moreover, Passengers can select from an array of vehicle types, tailored to their specific requirements and preferences, ranging from compact cars to premium and luxury options.
4. Cost-Effectiveness:
Transparent pricing eliminates hidden fees, providing budget certainty and value for money compared to traditional options.
5. Flight Tracking for Punctual Pick-Ups:
Ascend in Motion employs flight tracking to ensure punctual pick-ups, eliminating unnecessary waits and enhancing your journey's efficiency.
6. Safety and Security:
Above all, rigorous driver background checks and the option to share ride details with loved ones enhance passenger safety, peace of mind, and confidence.
In summary, while Taxi Service and Airport Shuttle Service are commonly used, Ascend in Motion's Airport Transfer via private cars stands out, offering unparalleled convenience, quality, flexibility. Furthermore, it offers cost-effectiveness, and security, coupled with flight tracking for punctual pick-ups. For a seamless and comfortable journey, choose Ascend in Motion's Airport Transfer at LAX and airports worldwide, setting the gold standard in airport transportation.