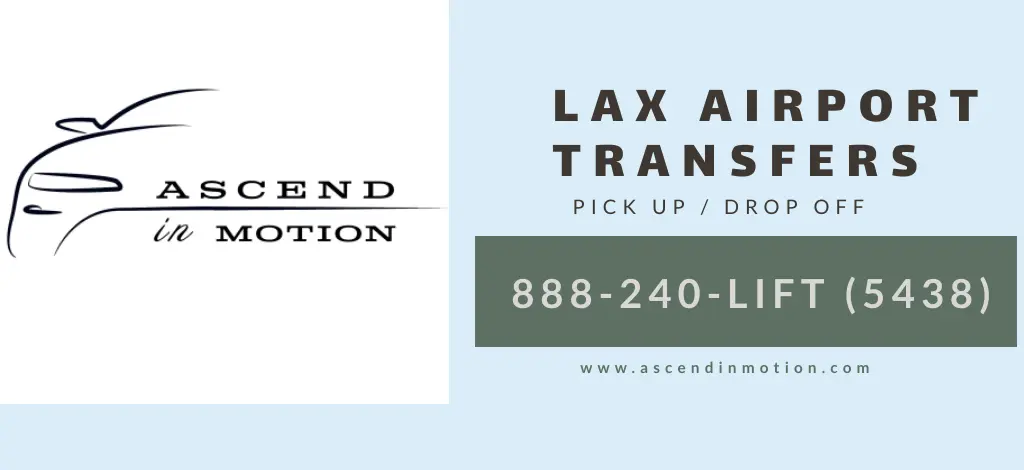 Are you taking a flight to LAX airport? Have you arranged your pick-up from LAX airport? Fret not! Booking a pick-up from LAX airport, Los Angeles is easy and convenient with Ascend in Motion.
Ascend in Motion is one of the leading ground transport services providers in Southern California with over 25 years of experience in providing airport transfer services. The company specializes in providing LAX curb-side pick-up services to any location in Southern California including top destinations such as Hollywood, Disneyland, Downtown LA, etc.
How to Book LAX Airport Pick-Up?
Ascend in Motion offers multiple ways to book your LAX airport pick-up.
Book LAX Airport Pick-Up By Call:
One of the easiest ways to book your pick-up from LAX airport is to call the dispatch center of Ascend in Motion. You can call the company at (888) 240 – 5438. This service is available during normal business hours.
LAX Airport Pick-Up Online Booking:
Booking of pick-up from LAX airport can be done in multiple ways:
A booking form is available on the official website www.ascendinmotion. Fill in the necessary details in the booking form including 'Service Type', Pick-up date, pick-up time, pick-up location, drop-off location, number of passengers, luggage count, etc.
You can also book a pick-up from LAX airport by sending an email at info@ascendinmotion.com
You can choose to add a child seat and accessibility option for specially-abled passengers.
You can create an account at the website to make regular bookings.
Benefits Of Creating An Account On www.ascendinmotion
Creating an account helps in easing the booking process:
Creating an account allows passengers to save their details and book rides faster using the saved information.
When booking through an account, the passengers can modify trip details.
By logging in to the account, customers can access invoices and payment receipts.
Customers can access reporting tools by creating an account on the website.
How to Choose A Vehicle for LAX Pick-Up?
Our simple-to-use Online Booking Form allows customers to choose from multiple luxury car ride options.
Luxury car ride options offered by Ascend in Motion are:
Tesla
GMC Denali
Mercedes Benz
Toyota Sienna
Cadillac Escalade
BMW
You may select the vehicle depending on the number of travelers and luggage you may have. Once you Book Your LAX Airport Pick-Up ride, you will get a confirmation message for the same.
For more information, call Ascend In Motion at 888-240-LIFT (5438)